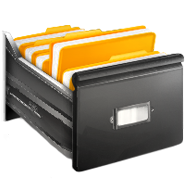 Integrate our Enterprise Content Management system into your IT infrastructure to keep your organization's critical files organized.
Are all of your company's files filed away in file cabinets? Do you have to dig through hundreds of file folders to find the document you are looking for? Do you pay for the inconvenience of off-site storage for your files? The IT professionals at FRS Pros have a solution. Our Document Management system presents useful options for organizations that are looking to find a digital solution for document retention.
Paperless Options for the Digital Age
Digitize your documents and create a solution to make files accessible from anywhere.
The mobile computing revolution has presented developing opportunities for company work to be done from remote locations. This trend in business computing has necessitated many organizations to incorporate document management interfaces that promote access to a company's organized file bank from outside locations.
With our system document management system, we can provide an outlet that will allow you to manage all of your company's vital documentation. Our solution presents companies digital versions of all of your businesses content, which in turn, allows people within an organization access of these documents on the go. This creates an atmosphere of considerable cooperation and promotes extraordinary collaborative options that are simply not possible without this solution.
Total Control Over Your Documents
Our flexible document management system can provide you with the control you need, when you need it.
Many times, such as with legally-regulated information, it is important that there is the security in place to protect an individual's privacy. We take pride in presenting a digital asset management solution that keeps sensitive information completely secure by meeting all the requirements for secure file compliance.
For more information about our Document Management System solution or any of our other enterprise-level IT support options, please call us at 561-795-2000.